YOUR BROWSER IS OUT OF DATE!
This website uses the latest web technologies so it requires an up-to-date, fast browser!
Please try
Firefox
or
Chrome
!

Welcome to the Richardson Symphony Orchestra
To Inspire, Educate and Excite Our Audience With Exceptional Musical Performances.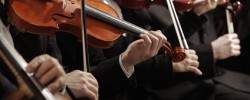 Donate to the RSO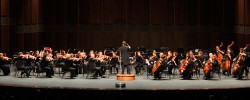 2017/2018 Season Tickets
To purchase tickets, call the Eisemann Center Ticket Office at 972-744-4650 or order online at: www.eisemanncenter.com
December 2, 2017 •
HOLIDAY CLASSICS WITH THE TURTLE CREEK CHORALE

February 3, 2018 •
BROADWAY BOYS

March 3, 2018 •
MOZART'S LAST SYMPHONY

April 7, 2018 •
AN EVENING OF GERSHWIN with Gustavo Romero, piano
May 5, 2018 •
SEASON FINALE featuring Bella Hristova, violin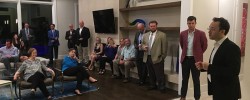 1849 Club
Founded in 2017, the Richardson Symphony Orchestra's 1849 Club is a social group centered around fine dining and engaging events with a membership that reflects Richardson's broad diversity.  The 1849 Club unites young adults and those young at heart, and offers members the opportunity to attend premium events, social gatherings, and networking events. The 1849 Club is named in honor of Frederic Chopin, who died in 1849. Click on the "1849 Club" tab for more information and to register.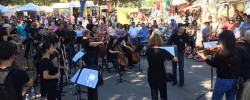 RSO Flash Mob
The RSO's "Flash Mob" at the Cottonwood Art Festival was a huge success! We had a great time bringing classical music to the art lovers at the Festival. Thank you to the City of Richardson Cultural Arts Commission for providing this opportunity.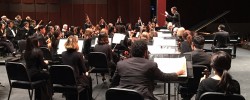 2016/2017 Season Finale
Thank you to Maestro Couturiaux and our talented musicians for another exciting season!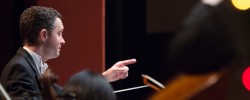 Radio Interview
Listen to a recording of our recent interview on KRLD radio
Upcoming Concerts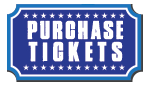 >
---
December 2, 2017 at 8:00 p.m.

The RSO welcomes the thrilling Turtle Creek Chorale to the Eisemann Center for an evening of holiday classics. The Turtle Creek Chorale is a dynamic men's chorus that combines...

---

February 3, 2018 at 8:00 p.m.

The RSO will be joined by the Broadway Boys, one of America's hottest vocal acts, for an evening of Broadway favorites, including Luck Be a Lady, My Eyes Adored You, Can't T...

---

March 3, 2018 at 8:00 p.m.

Mozart: Symphony No. 41 in C Major, K. 551 "Jupiter"
String Concerto: performed by the winner of the Ann and Charles Eisemann International Young Artists Competition

---