YOUR BROWSER IS OUT OF DATE!
This website uses the latest web technologies so it requires an up-to-date, fast browser!
Please try
Firefox
or
Chrome
!

Welcome to the Richardson Symphony Orchestra
To Inspire, Educate and Excite Our Audience With Exceptional Musical Performances.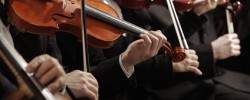 Donate to the RSO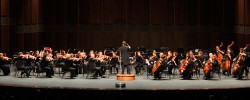 2018/2019 Season Tickets Now on Sale
To purchase RSO Season Tickets, call the Eisemann Center Ticket Office at 972-744-4650 or order online at: eisemanncenter.com/subscriptions
Tickets for the RSO Season Finale Concert on May 5, 2018 still available.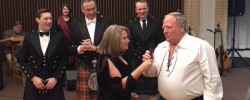 Robert Burns Night
Celebrating the life, times, poetry, and music of the immortal Robert Burns. Includes a three-course dinner, drinks, dancing and a festive celebration of Scotland's favorite Poet Laureate. Congratulations to the 2018 winner of the "Bonniest Knees" Contest - Mr. Bob Dubey. Next year's event will be held on Saturday, January 26, 2019.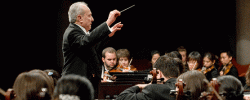 Anshel Brusilow
It is with great sadness that the Richardson Symphony Orchestra shares the news of the passing of former RSO Music Director and Conductor (1992-2012) Anshel Brusilow. He passed away in his home on January 15, 2018 at the age of 89. Memorial gifts may be made to the Richardson Symphony Orchestra, using the "Donate to the RSO" button at the top of this page. Or, by mailing a check to: Richardson Symphony Orchestra; 399 West Campbell Road, Suite 200A; Richardson, TX 75080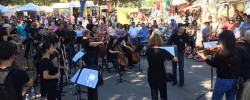 RSO "Flash Mob"
The RSO "Flash Mob" performed at the Cottonwood Art Festival on October 8, 2017. This performance was funded in part by the City of Richardson through the City of Richardson Cultural Arts Commission. Thank you for this opportunity!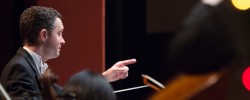 Radio Interview
Listen to a recording of our recent interview on KRLD radio
Upcoming Concerts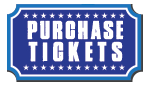 >
---
October 6, 2018 at 8:00 p.m.

Strauss: Overture to Die Fledermaus
Bruch: Violin Concerto No. 1 in G minor, Op. 26                       
Paul Huang, violin
Wag...

---

December 1, 2018 at 8:00 p.m.

The RSO Holiday Classics Concert is one of North Texas' richest holiday traditions. Jodi Crawford Wright will again join the RSO, following her widely acclaimed performance in...

---

February 2, 2019 at 8:00 p.m.

The RSO brings the world of sports to the concert hall in "A Night at the Movies: Sports Spectacular." The program will include music from: Rocky, Chariots of Fire, Rudy, Ho...

---