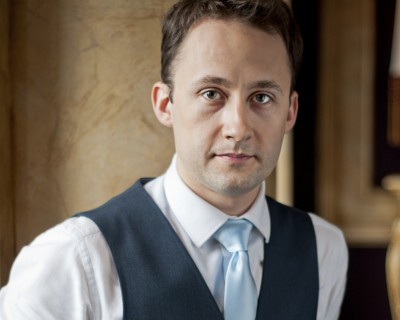 Alexandre Moutouzkine is performing with RSO at Opening Night Concert.
Visit Website
Artist's Discipline: Piano
Alexandre Moutouzkine has toured throughout Germany, France, Spain, Russia, Italy, and North and South America, in China and Japan. In recent seasons, he has appeared as soloist with the Tivoli Symphony Orchestra, the Radio Television Orchestra of Spain, Cleveland Orchestra, Louisiana Philharmonic, Valencia Philharmonic, the Gran Canaria and Tenerife symphonies in the Canary Islands, the National Symphonic Orchestra of Panama, the National Symphonic Orchestra of Cuba, the Israel Philharmonic, and the Brno Philharmonic Orchestra of the Czech Republic. His performance of the Chopin Études in the Great Hall of the Moscow Conservatory was recorded live and released on the Classical Music Archives label in Russia.
Mr. Moutouzkine claimed top prizes at the Walter W. Naumburg, New Orleans, Cleveland, Montreal, Iturbi (Valencia), and Arthur Rubinstein international competitions, among others, and was a winner of Astral Artists' 2009 National Auditions.
Recent highlights include debuts at the Great Hall of the Berlin Philharmonic in Brahms' Piano Concerto No. 1 with the Berliner Symphoniker, a chamber music concert in Lincoln Center's Kaplan Penthouse with the Jasper String Quartet, an appearance with the Philadelphia Orchestra on its Beyond the Score series, performances of complete solo works of Serge Rachmaninoff on the Carnegie Room series in New York, and recitals throughout Asia, including appearances in the Beijing Concert Hall and Japan's Yokohama Hall. The Greenwich Citizen claimed of his recent debut with the Greenwich Symphony in Rachmaninoff's Piano Concerto No. 3 that Mr. Moutouzkine is "poised to join the pantheon of greats . . . outperforming even the composer himself." Following the success of a performance of his own solo piano transcription of Stravinsky's Firebird Suite, performed live alongside specially commissioned animation entitled "Who Stole the Mona Lisa?" at the Kimmel Center for the Performing Arts in Philadelphia. He made his New York premiere of the work at the 92nd Street YMCA.