January 31, 2019 at 7:00 - 8:30 p.m.
Join us for this fun and enriching program at the Richardson Public Library in the Basement Program Room on Thursday, January 31st. There will be a discussion of the new book "Mozart's Starling" and a performance by the RSO String Quartet.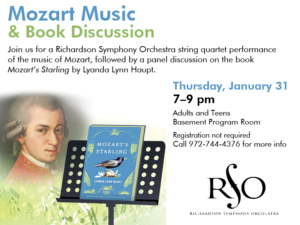 Reviews
"This hard-to-put-down, charming blend of science, biography, and memoir illuminating the little-known story of the composer and his beloved bird is enlivened by the immediacy of Haupt's tales of Carmen, and brimming with starling information, travelogues, and historical details about Mozart's Vienna."―Booklist (Starred Review)
"Weaving together cheerful memoir, natural history, and biography, the author celebrates her 'insatiably social' pet starling, Carmen; investigates Mozart's experience with his avian companion… and offers intriguing details about starling behavior."―Kirkus Reviews

"Mozart's Starling is a delightful, enlightening, breathless flight through the worlds of Carmen and Star, two European starlings who join their human counterparts in exploring life and music and nature, helping to shed light on the connection between humans and birds — those of us bound to terra firma, and those who are free to soar."―Garth Stein, author of The Art of Racing in the Rain and A Sudden Light
About the Author
Lyanda Lynn Haupt is an ecophilosopher, naturalist, and author of several books, including The Urban Bestiary, Crow Planet, Pilgrim on the Great Bird Continent, andRare Encounters with Ordinary Birds. A winner of the Washington State Book Award and the Sigurd F. Olson Nature Writing Award, she lives in Seattle with her husband and daughter.