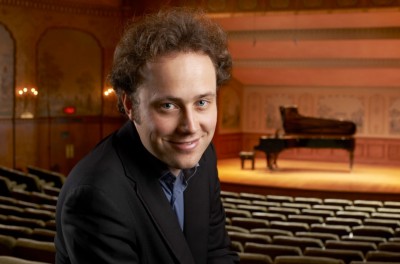 Alexander Schimpf is performing with RSO at Season Finale Concert.
Visit Website
Artist's Discipline: Piano
"Maybe they still do exist, the younger music professionals who have gained a following thanks to their musical talent and not because of their extra-musical tabloid antics. In a classical music industry in need of reform, Alexander Schimpf, recent winner of the Vienna Beethoven Piano Competition, could be one of these future heroes…" Süddeutsche Zeitung review of a piano recital in the Small Auditorium of the Münchner Gasteig.
"This young pianist has all the earmarks of becoming a major force in the decades to come." (Odessa American, 2013)
Over the past few years Alexander Schimpf has risen to prominence by impressively winning a series of competitions, including the 2008 German Music Competition (a distinction no pianist had earned for 14 years), First Prize at the 2009 International Beethoven Competition in Vienna, and finally emerging as the first German pianist ever to win First Prize at the 2011 Cleveland International Piano Competition. His final round performance at Severance Hall with the renowned Cleveland Orchestra was given a standing ovation and additionally honored with the Audience Favorite Prize.
Since winning these notable awards, Mr. Schimpf's career has gained momentum with regular appearances at important music centers around the world. In recent years he has given debut performances at the Vienna Konzerthaus, Berlin's Konzerthaus, Carnegie Hall's Zankel Hall in New York, the Marinsky Concert Hall in St. Petersburg, the Great Hall of Alte Oper Frankfurt and the Munich Philharmonic Hall.
Born in Göttingen, Germany in 1981, Mr. Schimpf initially studied piano with Wolfgang Manz in Hannover and subsequently studied with Winfried Apel at the Musikhochschule Dresden as well as with Bernd Glemser in Würzburg. The pianists Cécile Ousset and Janina Fialkowska also played an important role in his artistic development.
Mr. Schimpf has performed in recital throughout Germany (including appearances at Gasteig München, NDR Hannover, Beethovenhaus Bonn, Musik- und Kongresshalle Lübeck) as well as at festivals such as Oberstdorfer Musiksommer, Heidelberger Frühling and the Ludwigsburger Schlossfestspiele. He also has appeared in recital in France (Auditorium du Louvre and Salle Cortot in Paris), Italy, Austria, Switzerland, Poland, and England, and several times in South America.
Mr. Schimpf made his debut appearance at Carnegie Hall in December 2011 and has been performing in the USA frequently since then. Future engagements through 2015 include solo recitals in Boston, Chicago, New York City, and Washington D.C., and performances with numerous symphony orchestras throughout the country.
Recent engagements included appearances as a soloist with the St. Petersburg Marinsky Theatre Orchestra, the "Junge Deutsche Philharmonie", the Dresden Philharmonic, and the Prague Philharmonia Orchestra.
Mr. Schimpf has collaborated with noted chamber music partners, including violinists Christian Tetzlaff and Nils Mönkemeyer, cellist Julian Steckel and the "American String Quartet."
Released in 2009, his first CD was co-produced by Deutschlandradio Kultur and GENUIN. A second CD, as an exclusive artist on the OEHMS Classics label, was released in 2013 in a co-production with Bayrischer Rundfunk. It features works by Ravel, Scriabin, and Schubert.
In 2013 Mr. Schimpf was presented with the Bavarian State Award for the Advancement of the Arts.