Founded in early 2017, the Richardson Symphony Orchestra's 1849 Club is a social group centered around fine dining and engaging events with a membership that reflects Richardson's broad diversity.  The 1849 Club unites young adults and those young at heart, and offers members the opportunity to attend premium events, social gatherings, and networking events. The 1849 Club is named in honor of Frederic Chopin, who died in 1849.
Membership dues for the 1849 Club are $150 per person each season.  The membership fees cover the cost to attend and participate in many of the scheduled events listed below. (RSO concerts tickets need to be purchased separately.) Please click on the link below to register for the 1849 Club. Or, you may mail a check payable to "Richardson Symphony Orchestra" to: Richardson Symphony Orchestra; 399 West Campbell Rd. Suite 200A; Richardson, Texas 75080
Click on the link below to register: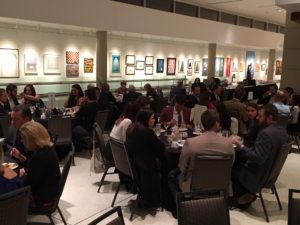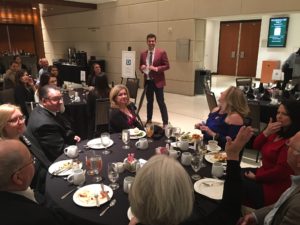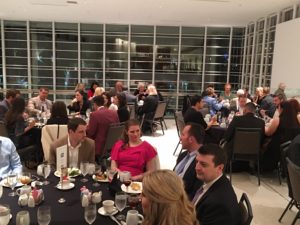 2017 Inaugural Pre-Concert Dinner
2017-18 Season of Events
May 6, 2017 – 1849 Club Dinner 
Meet your fellow 1849'ers at a dinner prior to the evening's concert.
Dinner will be followed by a backstage tour of the Eisemann Center
July 2017 – Ladies Night! Chocolate and Champagne
Ladies of the 1849 Club gather for Chocolate and Champagne
Social event, no concert that evening
September 2017- Brunch and Golf 
Additional costs to participate
Afternoon event: Brunch followed by a Golf Scramble
Social event, no concert that evening
October 5, 2017 – An Evening with Alexandre Moutouzkine 
Join us for cocktails on Thursday, October 5, 2017 for an evening event featuring a sneak preview with pianist Alexandre Moutouzkine
January 2018 – Kids' Event
1849'ers bring your kids for this special event designed to make learning about music fun!
Afternoon event includes an interactive music lesson, a snack, and a fun music-themed craft.
Family event, no concert that evening
February 3, 2018 – Date Night at the Eisemann Center
Bring your favorite dance partner and kick up your heels with us before the evening concert!
Catered dinner at the Eisemann Center followed by a ballroom dance lesson.
April 7, 2018 – Spring Picnic 
Join us for a spring family picnic in the beautiful Texas wildflowers.  A professional photographer will be on hand to take wildflower photos with families, kids, and pets. Picnic and springtime fun will conclude early in the afternoon, well before that evening's concert at the Eisemann Center.  *Additional fees for digital or photo prints and sitting fees may apply
May 5, 2018 – Cinco De Mayo Party 
The 1849 Club's 2017-18 season will conclude with chips and queso as we celebrate Cinco De Mayo before the evening's concert at the Eisemann Center.